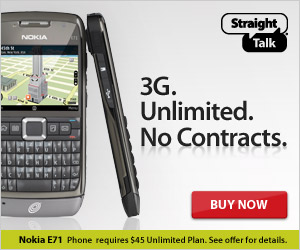 You can get a quality cell phone plan for a fraction of what you are paying on your current subscription. With Straight Talk (www.straighttalk.com), you can get nationwide coverage for an extremely low price. Straight Talk might be cheaper than other cell phone providers, but that doesn't make them inferior. For one low price, you can get unlimited talk, text, and web browsing on your phone. And because they are affiliated with WalMart, you know that you are getting a reputable product.
The phones offered by Straight Talk are of top quality. With products from Samsung, Nokia, and LG, these phones are some of the same ones you can get through the big name cell providers. Whether you want a phone just for talking, or you plan on using it for more intensive purposes, Straight Talk has the phone for you. There are phones with full keyboards, cameras, touch screens, and other smart phone features. When you buy a phone through Straight Talk, you can even get it shipped for free. While you don't have as many free phones up for grabs as some of the big name providers offer, because you are paying so little for your service, this savings is more than accounted for.
Straight Talk is more than a cheap cell phone service. They allow you to prepay your account and pay as you go, without contracts or other red tape bothers. In other words, they are a service that lets you pay only for the services you want or need. There are no credit checks, no monthly contract fees, and no activation fees. You pay up front, and Straight Talk provides you with the service you paid for. This eliminates the worry of having to pay for service each month as it is already taken care of. You can have your service auto-refilled, so you never have to worry about running out.
Straight Talk allows you to keep your old phone number. If you have an existing phone number, it is quick and easy to transfer it over to a Straight Talk account as long as it is an active number. You can have ringtones and other accessories added to your phone too. Like all other areas of your plan with Straight Talk, these are prepaid, so you can use them when you want them.
The best part about Straight Talk is that the longer increment of time that you prepay, the cheaper the service will be. If you are serious about saving money but don't want to sacrifice quality, Straight Talk is the perfect plan for you.